Today, I've rounded up 35 simple, but powerful American history homeschool resources for kindergarten to high school.
Whether you're trying to fill a state requirement or you want your child to have a well-rounded view of U.S. history, I know you'll love these resources.
American History Homeschool Resources
First, because I have homeschooled over 20+ years, I have some great tips for you.
Look at these 10 ways to teach U.S. history out of the box. Besides, not every kid responds to an all-in-one i.e. boxed curriculum.
10 Ways to Teach U.S. History Out of the Box
Instead of trying to learn about all American History in one year, focus on one time period through the eyes of a founding father or another historical colorful character. We did this when we examined the life of Wyatt Earp. Look at Free American History Lapbook – The Old West Through the Life of Wyatt Earp. This idea works for multiple ages because you can bring out much about the time period in American history and add fun hands-on activities too.
In addition, when my first son reached high school, we learned about the FBI. It was a fun way to focus on learning about American government based on a topic he was interested in. So, take a topic or key event which piques your teen's interest and build a study around it. Look at my FBI unit study.
For older kids, study American history through original sources. Reading letters between friends and family helps to make what could be a boring time period in history come alive. Look at 7 Things to Try When a Homeschool History Curriculum Isn't Coming Together (Hint: Try a Primary Source or Two).
Learning through movies is another way to make learning any time period in history an event to look forward to. Look at 7 Educational Movies for Kids About Westward Expansion.
Another slant is for art lovers. Learn about history through art. Look at Art History for Kids.
Also, learning U.S. history through lapbooks is a fun way to learn important events. Look at my Free 27 Week American History Study through Lapbooking In Chronological Order
One more fun slant is to learn about historical costumes. Look at Bring History To Life With Historical Costumes: Fun, Fashion and Unforgettable
An especially fun way to bring meaning to history is to use a living book as a spine. A living book is a term used by Charlotte Mason to mean a book written in a story form which engages a reader as opposed to a boring textbook. Use a living book as a spine or the main book and add activities based on the reading. Toward the bottom of the article, I listed some living books which could work as a history spine.
Another engaging and fun way to learn about history is through cooking recipes from the different states. Kids of any age love learning what other kids' eat and how they live. Look at my post make chili when doing a state study on Texas.
This last slant is to learn U.S. history through creating a timeline. Whether you want to focus on events or people, a timeline is a great visual of American history. Look at my post How to Teach With an Easy DIY American History Timeline.
American History Homeschool Resources K to 12
Next, I've rounded up tons of resources to give you a variety of options.
For me every year was different when I taught American history. Some years we dived deeper, other years not so much.
There are a variety of resources below from audio to living books to lapbooks.
Also, the resources and books or literature are listed from easiest or for the youngest learner up to high school.
Of course, grade level is subjective. You'll want to mix and match history resources to make learning American history meaningful.
Further, readers mature at different rates. What is sensitive to one family or reader you and I know will be different for another.
So be sure you check out the readers because where possible and best I can remember, I give you a heads up if something may be sensitive.
As always, you're responsible for previewing resources beforehand. I know you will.
Kindergarten to Sixth Grade American History Resources
Beginning with kindergarten to sixth grade U.S. history resources, variety is key.
Especially for young kids like prek and kindergarten, reading aloud, coloring, creating crafts, and activities helps to lay a foundation for what is American history.
Actually, do not forget that even older kids whose introduction to history has been boring could still benefit from activities, reading aloud, and games.
Look below for kindergarten to sixth grade American history resources roundup.
1. American History Dover Books for Coloring and Paper Crafts
Whether you have a younger or older child, Dover coloring pages have been a staple in our homeschool for years.
They're not just ordinary coloring books, but coloring books that teach facts while having some creative fun.
Also, Dover has paper models for hands-on history. You don't want to miss these fun ways to learn history.
Look at these Stand Up Presidents and White House Cut & Assemble.
2. American Kids in History Series
This next series is a fun slant on American history.
American Kids in History series is a series that just doesn't use text but games, activities, and recipes to learn about Americans.
One or two of these books would make for a great mini unit study.
3. Early American History by Beautiful Feet
This next curriculum which I loved and used when my kids were younger and all the way through high school is by Beautiful Feet Literature.
The Early American History Jumbo Primary pack for first to third grade introduced my kids to American history makers through beautiful literature as opposed to a boring text book.
4. Stories of Great Americans For Little Americans
This next series Stories of Great Americans for Little Americans was written in 1895 at about a second grade level and reprinted and updated.
5. Magic Tree House Series
Another series The Magic Tree House has the Magic Tree House Books 21-24 Boxed Set which is American History.
The Magic Tree House series is a beloved set for teaching history for all time periods, but it has the American history set for the youngest readers.
This series aims for first to fourth grade.
History for Kids
6. The d'Aulaire Biographies
The first time I read one of the d'Aulaire historical books with my young kids, we were hooked.
Look at some of the titles to choose from.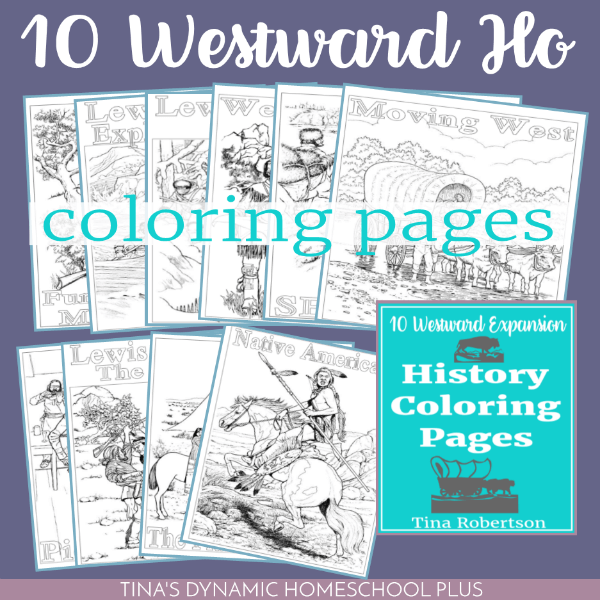 7. American Story Series
Additionally, American Story is a beautiful series which has been around for a long time and for reason. The literature and illustrations are beautiful.
It is a secular approach to history, but not anything you can't tweak one way or the other to your worldview.
You'll love all the titles in the series. Here are a few below.
8. Who was? What was? Where is? Series
There is a reason this much loved Who was What was Where is series has close to 200 books. It was a hit when this series started.
Although it can be hard to find a grade level, this series is good for kids up to sixth grade. However, it aims for third to fifth grade.
But don't let that stop you if you have kids a bit younger or older.
It's a much loved series with so many topics and titles which makes it a great multiple age series of books to teach about important American history events and persons.
9. America First: One Hundred Stories From Our Own History by Lawton B. Evans
Then next America First: One Hundred Stories From Our Own History by Lawton B. Evans approaches history by using stories or the living history approach I love for all ages.
10. My America Series
My America series is a fictional series aimed at elementary aged kids.
My America series is a spinoff of the Dear America series and written in the same diary format.
From best I can remember there are approximately 20 books or so in the a series. Like the Dear America series, you have many choices of great books.
11. American Girl series
Also, what young girl doesn't fall in love with Felicity, Kirsten, and Addy from the American Girl books.
I haven't put my hands on the series in a while, but from best I remember the older versions of the books have a non-fiction section at the back.
There are period crafts and recipes you can add for each theme.
12. Childhood of Famous Americans Series
Then, Childhood of Famous Americans Series was also another life saver for me when the kids were young. It's a biography series that was originally written in the 1940s.
The series has grown and expanded through the years and reprinted.
This was one of my kids' favorite series because of the illustrations and short chapters for young readers.
13. History Pockets by Evan-Moor
This next resource which is History Pockets is such a wonderful hands-on resource that I feel you can use it even for kids in middle school.
Each book comes with a theme. Themed activities such as maps, timelines, minibooks and character descriptions are created for the history pocket.
If your child is not not ready to unleash his history creativity and wants something fun, but more laid out he'll love the themed history pockets.
Again, some of the themes are for sixth grade, so I know older kids will love them too.
Middle and High School
American History Resources
Moving to teaching middle and high school can be challenging unless you have the right resources.
Don't be afraid to teach American history with resources you have at your finger tips. It's easier than you think to create a credit worthy course. Look at my tips How to Create a Creditworthy American History Course (& resources)
Look at the resources which can be used for older kids.
14. Paradigm Accelerate Curriculum Worktexts
When I first looked at Paradigm Accelerated Curriculum, I wasn't sure it would work for us. However, I was pleasantly surprised at how easy it helped my kids to cover some topics we were lacking.
First, PAC booklets are a worktext. A worktext is different from a workbook.
Unlike a workbook, worktext does some teaching right in the workbook. Worktext are great for teaching kids to be independent. You don't have to do all the teaching.
Usually some background information along with activities are all built into the lesson plan. It's like having the textbook and workbook in one spot.
The American History I, America's Founding Fathers, Events, and Documents (Supplement), are aimed for about eighth grade and American History II is for high school.
15. Guest Hollow High School American History
Guest Hollow is a two year program for high school kids.
If your kids love learning history through literature and good books, they'll love this program.
The A History of US series is an usual series that we loved. It's written in a story form to older students.
The series touts to be for fifth grade to eight grade. I've found that even older kids can benefit from the material.
17. Time Travel Adventure with Exceptional Americans Series by Rush Limbaugh
Next, who'd think Rush Limbaugh would have a series of history books, but he does.
What kid or adult (me) wouldn't love to read about traveling back in time? Historical fiction is a way to also revive a love of history by talking about time travel through history.
The Rush Revere Time Travel Adventure with Exceptional American series is aimed for grades fourth to eighth, but again you know grade levels are subjective. There are five books for now in the series.
18. 19. Modern and Early American History by Beautiful Feet
Beautiful Feet which is one of my favorite homeschool curriculum for living history books and has packs for middle school and high school kids.
The packs can be used anywhere from an advanced 7th grader to high school.
The curriculum has a twist, it's mixed. It has American history and world history studied together.
This makes sense if you're trying to connect American history to the bigger picture of how it fits into world history.
20. Dear America series by Scholastic
The Dear America series is for girls. The books are written like diaries looking at events in American history.
Although the book touts for a younger reader closer to a 10 year old girl, I find a few of the elements in some of the books are more suited for an older reader like 14 or 15 years old.
One book mentions something mysterious about a wedding night implying a sexual nature which is not necessary for a young reader.
I mean I have found nothing explicit so far, but feel that innuendo could have been left out if this was for a younger reader.
So I am putting this series here more suited for a middle or high school girl.
Multiple Ages Resources
And All-in-One
Next, there are many resources which can be used stand alone for teaching history, but there are also resources that make planning easy.
Multiple age resources and all-in-one curriculum are those types of helps.
There are advantages to using an all-in-one.
A few advantages of using laid out curriculum are
you have less planning;
some of them can be used for multiple ages;
sometimes plenty of background information is given which can lessen your prep work; and
if you need to track hours, it can be easier to do it with laid out curriculum.
Look at some of these resources below. Some are more scripted than others, but all of them are laid out easier than just using a book.
21. Home School in the Woods
This first one is Home School in The Woods because I loved having more ideas for hands-on history.
Like science, I feel history is better understood and appreciated when it's hands-on or project based.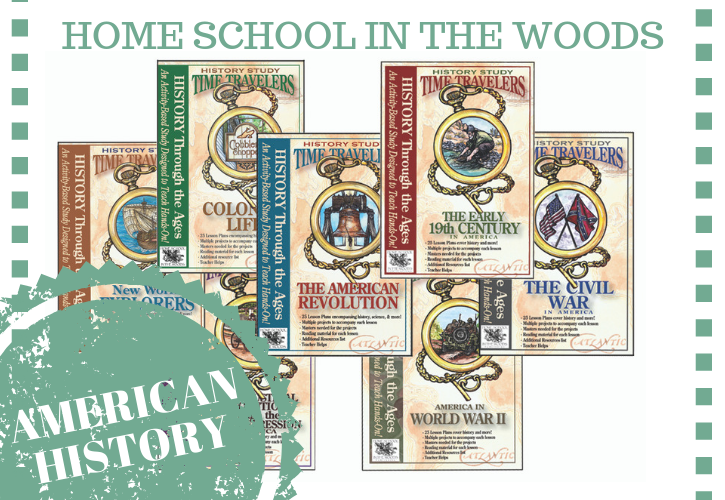 Sure it takes longer to do activities, but learning like this sticks.
22. Build Your Library Secular Based
Build Your Library is a secular literature approach to history.
You'll have to purchase the books and the lesson plans are .pdf, but you can certainly combine kids with this unit study approach
. Also, if you're trying to build a library this a great way to do it. Build your library is good if you're trying to teach multiple children and want more of a general guide.
23. Notgrass History Christian Based
If you want a unabashedly Christian curriculum, then you'll love Notgrass History.
Their history is told in a story form and you'll love all the options for each grade.
24. U.S. History Secular Based By Blossom and Root
Blossom and Root has U.S. history for elementary and middle school kids. It is a complete secular history unit.
25. Memoria Press Uses a Classical Approach
Memoria Press has guides for first grade to high school and uses a classical approach to teaching U.S. history.
Using great books of the past they paired them with history guides to teach different topics of American history at each level.
26. Hillsdale Free U.S. History Courses
Hillsdale College offers free American history courses in the same
You'll love the free courses on line.
Hillsdale offers courses from a faith-based approach. As stated on their website: "These free, not-for-credit courses are taught by Hillsdale College faculty and are patterned after the education offered on the Hillsdale College campus."
27. Truthquest History Christian Based
Truthquest history is a literature-based curriculum which can be used for multiple ages.
Instead of having day to day lesson plans, you're giving guides for each topic. Using real books, this history is more of a unit study approach. If you want to have a guide, but go down bunny trails this curriculum may work for you.
28. All American History Christian Based by Bright Ideas Press
All American History by Bright Ideas Press is a staple in the homeschool community. Homeschool Buyers has it for a considerable discount.
From the site, it says American History is a complete year's curriculum when combined with the Student Activity Book PDF and Teacher's Guide. The first volume covers Exploration through 1840.
American History Spines
Living Books, Audio, Video, CD, Online Courses for American History Resources
Last, I'm sharing some other wonderful resources which helps kids with different learning styles and needs. Too, sometimes you need to mix and match as I talked about earlier.
Too, I want you to understand what is a history spine because it's a fun, but very practical way to teach a content subject like U.S. History.
A spine is a resource you use as your main reference to teach a subject. A spine refers to a backbone. So it's a resource which can be a living book or reference book which is the backbone of your course of study.
A spine has many advantages and is different than an all-in-one in many ways.
Look at the 5 advantages of using a history spine.
When you choose a history spine, you can narrow your focus. Instead of teaching all of American history in broad strokes, sometimes you need a few key events or people for a deeper study.
In addition, you may want to move quicker on topics if your goal is broad strokes. A general history spine instead of day to day laborious lesson plans may fit your needs this year.
A spine like a living book written in story format helps kids young kids to associate what could be abstract to concrete people and events.
In addition, a history spine can be tweaked to fit exactly the needs of your kids, i.e. rabbit trails.
There is no feeling of being behind when studying American history. You're just at where you're kids are at. Then you move on when you're done.
With that being said, in this section, I have included
history living books;
audio books for those who want to listen and not so much read;
online free courses in video form;
and videos using public domain books.
Many years I preferred to use books that were classic and written pre politically correct.
History has the good, the bad, and the really ugly and I wanted to convey all those parts to my kids as I felt they could understand it.
I'd love to rewrite history in some places, but I can't. So I explained to my kids how some people in the past and why some in the present may still feel one way. Explaining point of views becomes important while using any history resource.
29. The Rainbow Book of American History by Earl Schenck Miers
The Rainbow Book of American History was published in the 1950s and is a book you can use for a spine.
Remember that vocabulary and terminology are different for that time; keep that in mind if you use a classic book.
DIY American History Resources
30. America: The Last Best Hope


America: The Last Best Hope is another series loved by homeschoolers for a spine, but I haven't used it. But you recognize the name William J. Bennett for his book The Book of Virtues which is a compilation of moral stories.
31. My America Story Book Audio Using Public Domain Books
Well-educated heart has audio of stories from pre-1924 books in the public domain. Your child can listen or read, It's free.
32. Drive Thru History Adventure Video/DVD Series
This is a fun twist on history. It's a 12 part video series on history by "visiting" places. Too, it's offered in DVD form because not everyone has a great internet connection.
He has different time periods, but the American: Columbus to the Constitution is for American history and the whole family can watch and learn.
33. This Country of Ours by H. E. Marshall
This Country of Ours is another timeless history keeper. We loved the story format of this book and this is one that you could use for multiple ages too. I feel it's geared more toward elementary to middle school.
34. American History Stories by Mara Pratt
Again American History Stories by Mara Pratt is what I consider a living book approach to history.
It's a story format and I would use it for younger kids.
I do think an older kid would benefit from it if they haven't had a good introduction to history.
Big List of U.S. History Curriculum
35. Jim Hodges American History Audio
This next resource is such a fun one.
Whether you want some help for all the reading aloud you've been doing or your child learns better by listening and loves stories, you'll love Jim Hodges Audio Books.
From Ten Girls from History to American History Stories and True Stories of Great Americans for Young Americans and the Modern U.S. History bundle, you'll find tons of great resources.
36. Khan Academy Online Free Videos
When Khan Academy entered the homeschool world it was popular and have gained even more popularity through the years.
Although some teachers used Khan Academy as a stand alone curriculum a lot of homeschoolers supplement with it. Either way you have another option for your learners.
37. Crash Course Online Free Videos
Crash Courses are another favorite of homeschoolers. They too have been around for years with educational videos on many different subjects.
Crash Course has many different history topics you'll love including the American history section.
This list is by no means the total list of all the resources I've been exposed to, but it's a comprehensive list of homeschool favorites. Pssst! They work.
What else do you like to use for teaching American history to your kids?
Look at these other American history lapbooks, unit studies, homeschool curriculum and tips here to help round out your study.
Hugs and love ya,